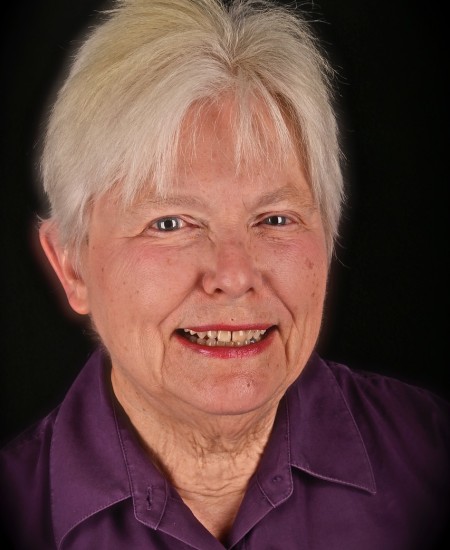 Claire Petsch
A fingerstyle player and former guitar teacher, Claire is the guitar buyer for the store and manages the guitar instruction studio.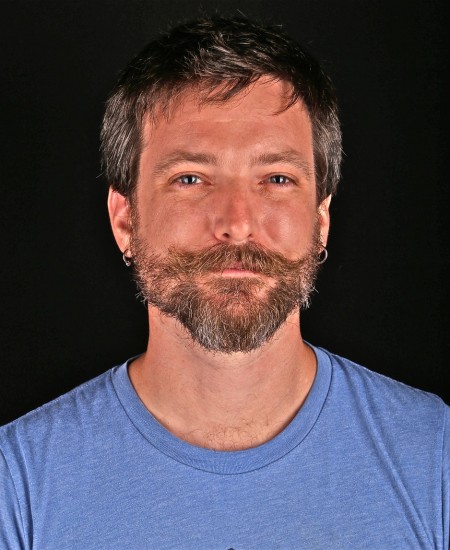 Lindsay Petsch
Lindsay has literally grown up surrounded by guitars, and he actively enjoys expanding his knowledge of the instrument and sharing that knowledge with others. While maintaining an interest in all types of music, he specializes in acoustic fingerstyle guitar, composing both songs and instrumental music.
Apart from his role as manager here at Maple Street Guitars, Lindsay is also active in the Atlanta acoustic music scene. In 2010 he co-founded the Tuesday night String Club, a songwriter showcase at Java Monkey in Decatur, which he co-hosted until 2014. He performs publicly and privately, both solo or with his band, The Justin Sams Band.
Along with fellow solo guitarists Jimmy Galloway and Gene Quinn, Lindsay released an album of original instrumental music, The White Dog Tracks, in the fall of 2008. His group, The Justin Sams Band, released their debut album, Ghosts of the Day, in the spring of 2018. For more information you can visit the links below.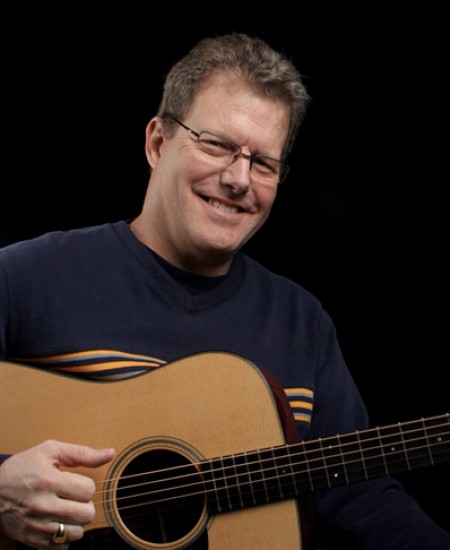 Mark Pertain
Mark Pertain is a singer/songwriter who has been playing guitar for over 40 years. He writes country, rock, blues and folk music, and would love to have one of his songs recorded by a major artist. As an aspiring country singer/songwriter, Mark was a member of the famed Buckboard Country Music Showcase house band in Smyrna GA, playing acoustic guitar, electric guitar, bass and drums, as well as singing lead and harmony vocals. It was there he opened for major country artists, such as Garth Brooks, Alan Jackson, Faith Hill, Vince Gill, Hank Williams Jr., Mark Chesnutt, Diamond Rio, Steve Wariner, Sammy Kershaw and many others. As a member of Cadillac Ranch, a touring outfit, he played venues all over the US, as a band member, solo artist and sideman. In the 1990s he was an in-demand country demo singer and acoustic guitarist in both Nashville and Atlanta. He is currently singing and playing electric guitar in a Blues/Rock band that performs around the Atlanta area, doing originals and covers. Apart from working in sales, where he specializes in acoustic and electric instruments, pickups, and amplification - Mark is the accessory buyer/manager here at Maple Street Guitars.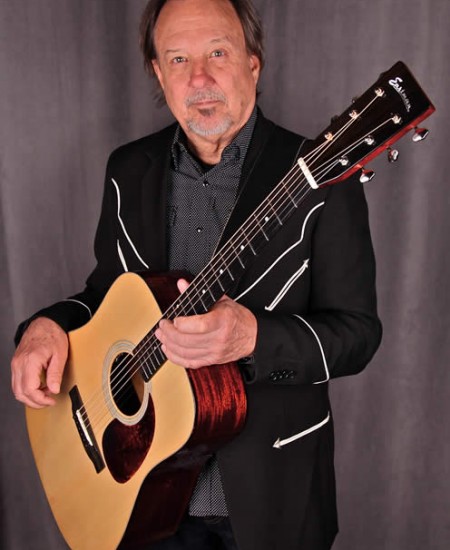 John Cable
John Cable is a veteran musician who began his career in the late 1960s.
After serving as lead guitarist and vocalist for country rock pioneers Colours, John became a member of the Nitty Gritty Dirt Band, with whom he performed on The Tonight Show, Don Kirshner's Rock Concert, The Midnight Special, Austin City Limits and The Grand Ole Opry, and at prestigious venues such as Wolftrap, Carnegie Hall, and Red Rocks Ampitheater. In 1976, they became the first American band in history to perform in the Soviet Union. John still occasionally performs with NGDB leader John McEuen.
In 2015, he released his first solo album Broken Knife to great acclaim, including a review in No Depression magazine.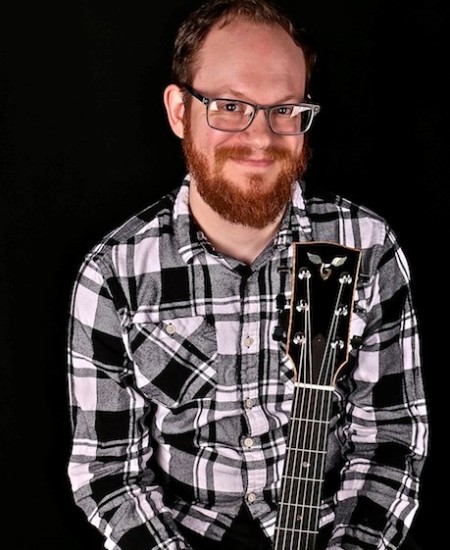 Chris Capitanio
Chris Capitanio is the Assistant Manager at Maple Street Guitars. He began playing guitar in 2003 and quickly fell in love with the instrument. A native of New Jersey, Chris comes from a very different musical background from the rest of the employees at Maple Street Guitars, specializing in rock and metal. Chris brings an enthusiasm for all things electric guitar and is a self-proclaimed "pedal nerd."
Chris is the lead guitarist and one of the principal songwriters for the progressive metal band In The Presence Of Wolves. ITPOW has released two albums (2014's Thalassas and 2017's concept album Of Two Minds, Stages 1-2: The Ape and The Cage) and has gone on numerous tours covering a large portion of the US and parts of Canada.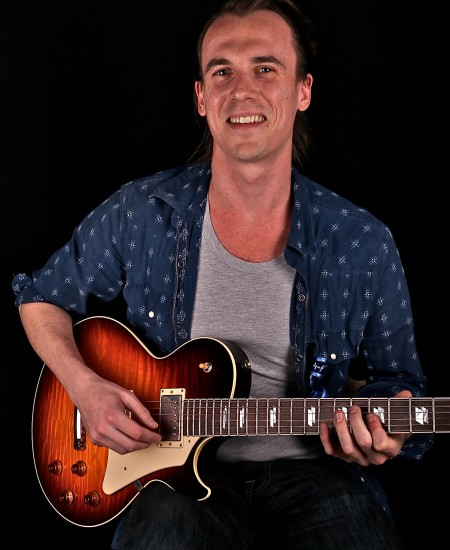 Brandon Kuykendall
Brandon Kuykendall is the newest member of the sales team here at Maple Street Guitars. He is a north Texas native who began playing guitar in 2003; and, while you can take the dude out of Texas, taking the Texas out of the dude is a different story. Brandon enjoys playing '60s-'70s rock and folk, but has primarily been inspired by the famed Texas outlaw country singer-songwriters. He's also enthusiastic about blues, jazz, and bluegrass.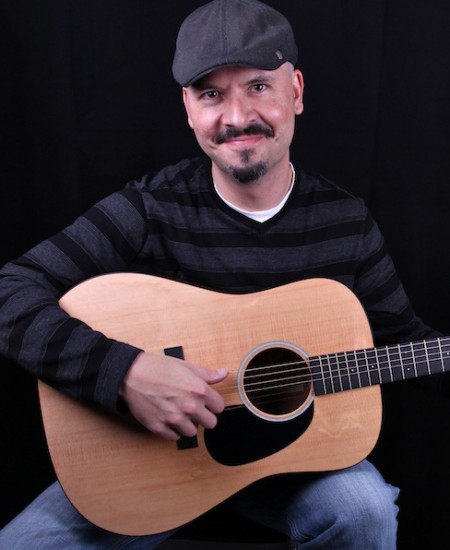 Jake Sharp
Jake Sharp is the manager of our repair department. Jake trained at the Roberto-Venn School of Lutherie in Phoenix, Arizona, where he learned to build both acoustic and electric guitars. He has since built several impressive instruments of his own design. As a player, Jake favors jazz styles, and released his own CD, Brilliant Shadows in 2006. In 2007 he won a place on Billboard's competitive list of Top 500 Songwriters Worldwide. Due to his knowledge of and experience with instruments, Jake also assists with sales and customer service.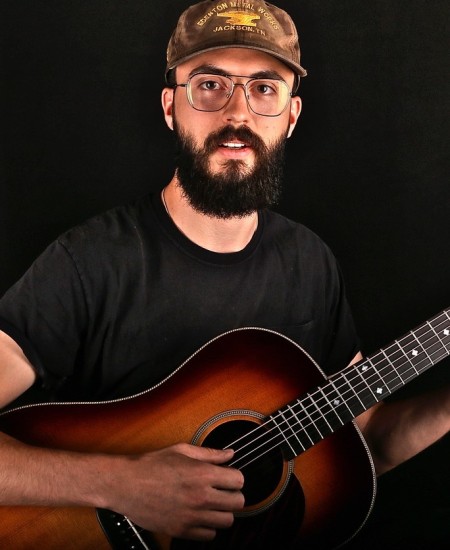 Foster Lewis
Foster has been playing guitar for over 15 years. In addition to performing professionally across the United States, Foster worked for several years as an audio engineer in Atlanta and New Orleans. In 2019, after years of tinkering with his own instruments, Foster began apprenticing under local luthier and former Maple Street technician Jeff Henry. He has since oriented his lifelong love of sound and craftsmanship towards instrument repair.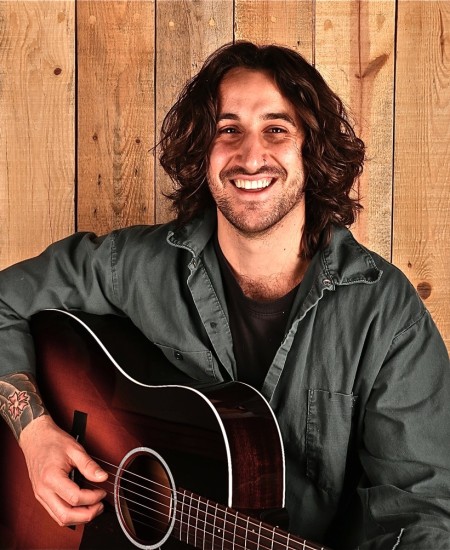 Aaron Rizzo
Aaron Rizzo is a songwriter, performing artist, and producer from Rochester, NY. Growing up digging through his father's record collection, Aaron became obsessed with the creation of music and developed a keen ear for melody and storytelling. By adolescence, this obsession manifested itself in frequent performances with a rotation of bands and projects, leading to a dedicated career as an recording/touring artist. To date, Aaron has released two full-length solo albums titled Blck Tee Shrt (2017) and Mirror Talk Blue (2021), and has recorded/collaborated with artists such as Nate Smith, Koncept P, Joanna Teters, and more. His original music has been featured on the hit television shows Shameless and Black-Ish, and in 2020 Aaron won the award for best score at the Sick N' Wrong film festival for his original score in the film Optic Nerve.
Relocating to Atlanta, GA in the fall of 2023, Aaron continues to perform and record original music in addition to being a session musician for artists he has met throughout his career.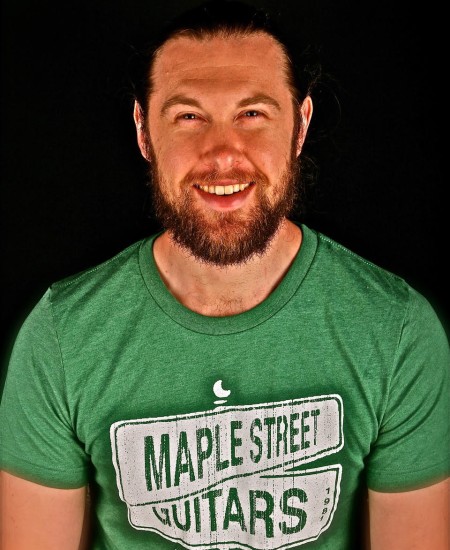 John Gill-Resch
Originally from Fort Plain, NY, John discovered lutherie after completing a music degree at SUNY Oneonta. The desire to work on his own instruments led him to enroll at Atlanta Guitar Works where he learned foundations for repair and building. That led to a short mentorship in Massachusetts with Greg Raynard followed by a move to Seattle, Washington in 2015. While in Seattle, John worked for Warmoth Guitar Products and then Mike Lull's Guitar Works, honing his repair and electric guitar building skills. Things came full circle at the start of 2022 with another cross-country move to Atlanta, where his journey in lutherie began. When not at the shop, John enjoys jamming with friends, winding pickups, going on the occasional jog, and spending time with his amazing wife, Christine.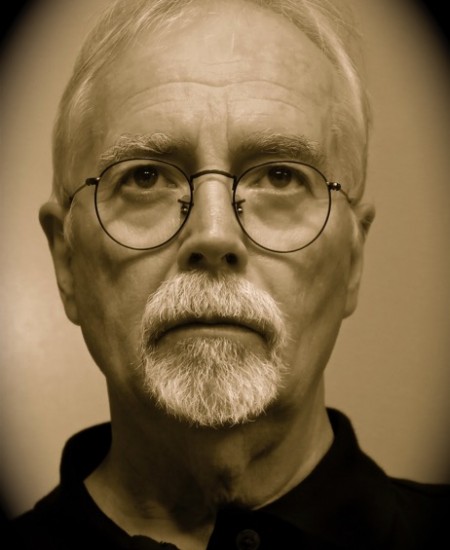 Albert Persons
Albert Persons been both a customer, and a friend of Maple Street Guitars since 1992. It is hard to believe the first time he walked into the store he had brown hair.
Albert retired from the U.S. Department of Veterans Affairs in 2010 and found himself with some free time. Since 2012 much of that time has been spent as the photographer for MSG.
Albert has an equal love for both photography, and for the guitar. His initial interest in both occurred around the same time in 1963. This was when he first saw the photography collection, "The Family of Man," and when the Beatles were first heard on the radio in America.
He is mostly self-taught on guitar, having "learned everything the wrong way." However, Albert says he learned a great deal about fingerstyle playing from a friend while in Vietnam…some very surreal and life-altering guitar lessons.
He played and sang semi-professionally in various groups in Birmingham, Alabama during the 1970s. He later developed an interest in Celtic music in Atlanta in the 1980s, often sitting in with traveling groups when they were in town.
His taste in music crosses over many genres.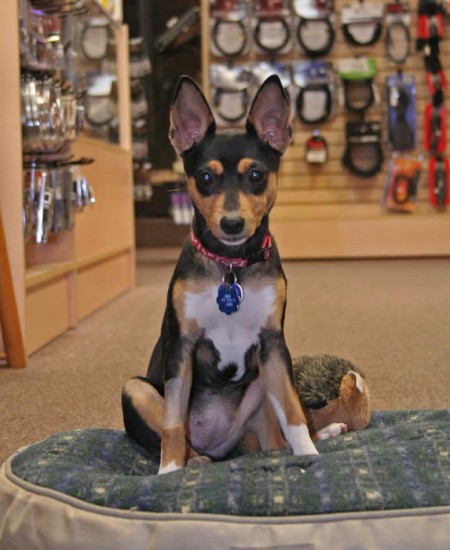 Roxy
Roxy is the newest member of the Petsch family, and thus the newest member of the Maple Street Guitars family. Like her predecessor, our beloved Cricket, Roxy was born on the 4th of July, so it's only natural that she has an independent spirit--as we like to say, "Roxy's got moxie!" She is very friendly, smart, and personable, and she loves meeting new people.
Roxy hasn't yet learned how to answer the phone, but she is doing an excellent job of greeting and entertaining customers in the meantime...